You will soon graduate from school or plan to change your career? Studying full-time does not really appeal to you? A vocational training at Johannes Gutenberg University Mainz might just be the right fit!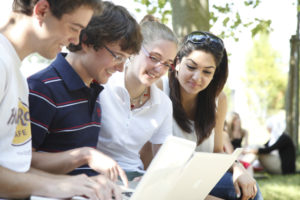 Vocational training at JGU
We provide training in the fields of skilled crafts, trade and industry, natural sciences, and administration and services. With around 60 trainees in a total of 14 different professions, Johannes Gutenberg University Mainz is one of the largest training workplaces in Mainz and Rheinhessen.
Achieving our educational mission is not only an important part of our culture, we also pursue this task with commitment and passion. Every year, motivated young talents have the opportunity to secure one of the approximately 20 attractive trainee positions and become part of our community.
In addition to the dual vocational training, you also have the opportunity to start a dual study program with us. The training at Johannes Gutenberg University Mainz combines practice and theory, so that our trainees are prepared for their career in a varied as well as diverse working environment.
Why become a trainee at JGU?
Intensive and professional support during your training
Great colleagues and a pleasant work atmosphere
Family-friendly with the daycare options
Continuing education and further training programs
Botanical garden, sports facilities and our libraries
Would you like to become a part of JGU?
Learn more about the different job profiles and apply for one of the open positions. We look forward to meeting you!